Industrial Process Automation for SE Wisconsin
Process Automation Contractor for Milwaukee Area Businesses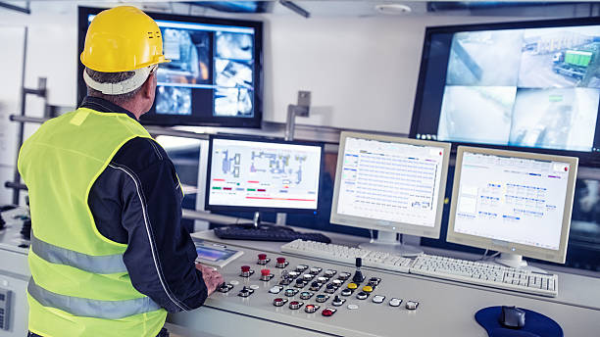 Terminal Andrae provides industrial process automation services to businesses in the Milwaukee area and across Southeastern Wisconsin. Our industrial process automation contractors help streamline operations, reduce downtime, and boost productivity while giving customer greater control over the full industrial process. Embrace the future of automation by partnering with us to drive unparalleled business success.
We've served many Wisconsin-based industries, from Milwaukee's Miller Brewing Company to Burlington's Nestle Chocolate Factory and countless others. Check out our project portfolio to see other businesses who have trusted Terminal-Andrae's industrial automation services, including Froedert Malt Industrial and Malt Kiln Processes.

Control Systems and Power Engineering for Wisconsin Industries
Terminal-Andrae expert electricians and engineers provide customers with greater control over the entire industrial process. Using custom software design, data collecting applications, and easy-to-use interface modifications, we are able to provide our customers with a higher, more involved level of industrial control. Our trained electrical engineers provide business owners with the information necessary to help reduce maintenance expenses, repair costs and troubleshooting time while maximizing overall efficiency.
We are proud to serve the following industries and more with industrial process automation solutions:
Environmental
Pulp/paper makers
Steel products
Utilities
Industrial automation control systems from Terminal-Andrae can include data collection and reporting systems as well as batch management, material tracking, downtime data collection, and graphical trending. Terminal-Andrae uses real-time relational database installations to integrate plant data with event, summary, production and configuration data.
Milwaukee Industrial Automation Contractors
Commercial Automation System Installation & Integration
Wisconsin businesses can rely on Terminal-Andrae for electrical engineering capabilities in manufacturing, process instrumentation, and process control automation. Our industrial automation control services include field instrumentation, control system engineering, and turnkey automation integration. Our diverse engineering staff has experience with various architectures and applications, and our technicians are knowledgeable about current software and hardware platforms.
Terminal-Andrae offers complete design engineering, procurement, installation, and commissioning services for control system engineering integration in Windows environments using client-server databases, networking, and object technology. From turnkey automation integration to power system engineering, Terminal-Andrae is Wisconsin's top choice for process control automation systems.
Industrial Process Automation Control Solutions
Engineering solutions
Performing detailed system designs and taking on system interoperability responsibility.
Providing in-house MMI/HMI system service engineers and technicians for on-going project support.
Custom designed computer graphic screens (operator interface).
Custom programming and interfaces using the latest object oriented programming technologies.
MMI (Manufacturing Management Information) / Human Machine Interface (HMI) / Programmable logic controller (PLC) Systems
New systems / turn-key automation installations
Existing automation control system upgrades and automation control system retrofits
Computer networks new and existing, including implementation of physical networking
New open architecture systems / multi-processor or controller type systems
Automation Control System, PLC Controls System, and HMI System Experience
Modicon
Wonderware
Automationdirect
Allen-Bradley
Beckhoff
Danfoss
Entrelec

Kepware
Rockwell Automation
Siemens E&A
Sola
Uticor
Wago
Process Automation Software Integration
Invensys-Wonderware
Rockwell-Software
Microsoft Visual Studio
MS SQLserver
Schneider Electric/Modicon
AutoDesk-AutoCad
Electrical Engineering Specialties
Batch Control
Construction/Architecture
Control Panels
Human/Machine Interfaces
Manufacturing Execution Systems/Data Acquisition
Modernizations
Field Service

PLCs/RTUs
Process Control
Project Management
Supervisory Control
Systems Engineering
Training/Education
Terminal-Andrae corporate affiliations and system Integrators include Invensys-Wonderware and Rockwell Automation.

Contact our Milwaukee electrical engineers
to learn more about our process automation capabilities. We help businesses across many Southeastern Wisconsin cities including Brookfield, Menomonee Falls, Milwaukee, New Berlin, Oak Creek, Pewaukee, Racine, Waukesha, West Allis, and beyond.
Quality Electrical Engineering Services