Industrial Automation in Milwaukee
Process Control and Industrial Automation from Milwaukee Electrical Engineers
Terminal-Andrae's quality electrical mechanical engineering capabilities and industrial process control automation go hand in hand. Terminal-Andrae provides value-added mechanical engineering solutions for industrial control applications for many Wisconsin based industries from Milwaukee's Miller Brewing Company Brewery automation systems to Burlington's Nestles Chocolate Factory automation systems to countless Wisconsin industrial factory automation systems.

Control Systems and Power Engineering for Milwaukee Industries
Terminal Andrae currently utilizes the collective knowledge of our expert staff members in order to provide our customers with increased control over their entire industrial process. Using custom software design, data collecting applications, and easy-to-use interface modifications we are effectively able to provide our customers with a higher, more involved, level of industrial control. Our crews of highly trained electrical engineers seek to leave business owners with the information and knowledge necessary to help reduce maintenance expenses, repair costs, troubleshooting time, and overall maximize efficiency. We are proud to serve some of the following industries with our industrial process automation solutions: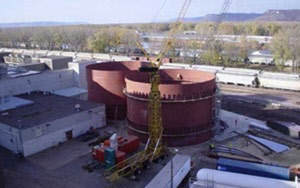 Environmental
Pulp/paper makers
Steel products
Utilities
Industrial automation control systems provided by Terminal-Andrae often include data collection and reporting systems as well as batch management, material tracking, downtime data collection, and graphical trending. Terminal-Andrae uses real-time relational database installations to integrate plant data with event, summary, production and configuration data.
Milwaukee Electrical Engineering and Mechanical Engineering
Terminal-Andrae Electrical Engineering Wisconsin provides extensive electrical and mechanical engineering service capabilities for manufacturing, process instrumentation, and process control automation. Our industrial automation control services range from on-site technical services for field instrumentation to control system engineering and turnkey automation integration.
Terminal-Andrae Engineering's diverse automation and controls engineering staff has commissioned a wide variety of architectures and applications. As we work on many custom integrated automation control systems, it is crucial our Milwaukee control systems technicians not only understand the control system processes, but also understand and use the most current software and hardware platforms to meet our customers' industrial process control automation needs. Terminal-Andrae can perform control system engineering integration from conceptualization and preliminary estimating through complete design engineering, procurement, installation, and commissioning services. We routinely integrate multiple software programs in Windows environments using client-server databases, networking, and object technology to provide seamless industrial automation solutions in Milwaukee, Madison, and throughout Wisconsin. From turnkey automation integration to power system engineering, Terminal-Andrae Electrical Engineering is Wisconsin's best electrical engineer for complete start to finish process control automation systems.
Industrial Automation Control Solutions include but are not limited to:
Performing "detailed" system designs and taking on system interoperability responsibility.
Providing in-house MMI/HMI system service engineers and technicians for on-going project support.
Custom designed computer graphic screens (operator interface).
Custom programming and interfaces using the latest object oriented programming technologies.
MMI (Manufacturing Management Information) / Human Machine Interface (HMI) / Programmable logic controller (PLC) control system installations for:
New systems / turn-key automation installations
Existing automation control system upgrades and automation control system retrofits
Computer networks new and existing, including implementation of physical networking
New open architecture systems / multi-processor or controller type systems
Automation Control System, PLC Controls System, and HMI System Experience Includes:
GE FANUC Automation
Modicon
Wonderware
Automationdirect
Allen-Bradley
Beckhoff
Cimerex
Cutler-Hammer
Danfoss
Data Linc
Entrelec

Giddings & Lewis
Intellution
Kepware
Nematron
Opto 22
Rockwell Automation
Siemens E&A
Sola
SoftPLC
Uticor
Wago
Process Automation Software Integration Includes:
GE-FANUC Solution Provider (Proficy ME, iFix)
Invensys-Wonderware
Rockwell-Software
Microsoft Visual Studio
MS SQLserver
Schneider Electric/Modicon
Oracle
AutoDesk-AutoCad
Maximo
Electrical Engineering Specialties Include:
Batch Control
Construction/Architecture
Control Panels
Human/Machine Interfaces
Manufacturing Execution Systems/Data Acquisition
Modernizations
Field Service
PLCs/RTUs
Process Control
Project Management
Supervisory Control
Systems Engineering
Training/Education
Terminal-Andrae corporate affiliations and system Integrators include:
GE-FANUC Solution Provider
Invensys-Wonderware
Modicon-Telemecanique
Rockwell Automation
Contact our Milwaukee electrical engineers to learn more about our process automation capabilities.
Quality Electrical Engineering Services