24/7 Emergency Electrician for Milwaukee & Southeastern Wisconsin
CALL OUR EMERGENCY ELECTRICAL SERVICE NUMBER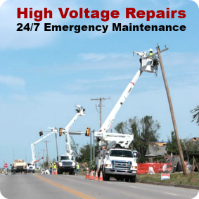 Terminal-Andrae Offers 24/7 Emergency Electrical Services near Milwaukee
At Terminal-Andrae, we provide 24/7 emergency electrical services in Milwaukee and throughout Southeast Wisconsin. Our fleet of electrical service vehicles and team of skilled electricians, technicians and engineers address your immediate electrical needs at any hour, any day.
We know electrical systems can require urgent attention at any time. Terminal-Andrae works around the clock to ensure our Milwaukee electricians are available when you need their help.
24/7 Emergency Electrician Services for

Don't have an electrical emergency? Our Milwaukee electricians offer preventative electrical maintenance services, electrical construction, computer-aided electrical drawing, infrared thermography and more! Contact Terminal-Andrae to discuss how we can address your electrical needs.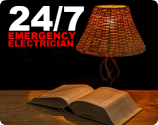 Emergency Electricians in Milwaukee On Call 24/7
Wisconsin Nighttime Emergency Electrician
✔
Terminal-Andrae resolves your Milwaukee emergency electrical problems 24/7. When an electrical emergency arises, our team of highly trained electrical technicians promptly and efficiently resolve your electrical problems.
From electrical construction emergencies to virtually any electrical engineering need, you can contact Terminal-Andrae 24 hours a day, 7 days a week, 365 days a year.
Over 100 Years of Electrical Repair Experience in Milwaukee
✔
With over a century of electrical repair and installation service in Southeast Wisconsin, Terminal Andrae is the best choice when you need electrical emergency services. Our Milwaukee electricians are available 24/7 and provide commercial, institutional and industrial services. Our electrical wiring repair professionals will get you back up and running quickly.
Wisconsin Electrical Repairs for Weather-Related Power Outages
✔
Harsh winter snowfalls and heavy summer storms in Wisconsin can cause power outages, leaving you in need of emergency electrical services. Our Milwaukee electricians are available to help you any time of any day. When you need emergency electrical service, call the 24/7 electricians at Terminal-Andrae.
Contact our Milwaukee electrical contractors for emergency electrical services any time, any day!
Quality Electrical Engineering Services