Electrical Maintenance Services in Milwaukee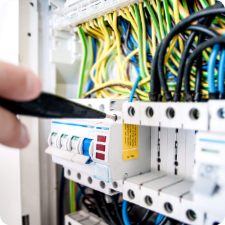 Local Preventative Electrical Maintenance
Schedule Regular Electric Maintenance Checkups to Keep Future Repair Costs Low!
Terminal-Andrae Inc. has the manpower needed for all your electrical engineering projects. When its time to get a leg up on maintenance or you're seeking out a substitute electrician, call Terminal-Andrae for timely repairs and maintenance checkups.
Medium and High Voltage Electrical Mainenance
Prevent power failure in critical engineering equipment and processes with medium voltage electrical maintenance. These services keep your systems running efficiently without interruption. Terminal-Andrae can also provide electrical maintenance for high voltage electrical systems. Schedule a maintenance technician to stop by your property to perform preventative maintenace, such as:
6 Preventative Maintenance Services in Milwaukee
Find a service you need? It doesn't matter how big the network or what type of property you operate, Terminal-Andare is your best source for preventative maintenance of electrical components of all sizes. We create and execute custom electrical plans, including:
Proper Shut Down of Electrical Systems

Re-Powering of Electrical Systems

Inspection of Bus Connections

Cleaning of Exercise Breakers

Re-Torque of Switches

Tightening of Cable & Wire Terminations

Lubrication of Electrical Equipment

Reduce Cost & Downtime with Milwaukee-Area Electricians
Preventative & Predictive Electrical Maintenance Experts
Electrical preventative maintenance is the most cost-effective protection against sudden power outages and power quality problems caused by today's micro-processor controlled engineering equipment. As facility down time and business downtime go hand in hand, power preventative maintenance is crucial for keeping productivity at its best. Terminal-Andrae's preventative maintenance service enhances business in a number of ways, including:
Increased Productivity
Improved Profitability
Reduced Downtime
Decreased Operating Costs
Milwaukee's Only Online, Real-Time Thermal Scanning Results
Terminal-Andrae's preventative and predictive electrical maintenance programs employ infrared thermography, or thermal scanning, to locate and evaluate electrical problems before they compromise business operations.
Our trained union electricians employ cutting-edge imaging technology to create and analyze images and perform on-the-spot repairs when needed.
Terminal-Andrae offers what no other Milwaukee electrical engineering company can:
Real-Time, Web-Based Electrical Maintenance Details
This cutting edge technology enables clients to access post maintenance information, via the web from virtually any location– the ONLY such web-based electrical preventative maintenance service in the Milwaukee area.
Interested in preventative maintenance? Contact our Milwaukee electrical company today!
Wisconsin's Top Electrical Preventative Maintenance Service
When it comes to Wisconsin electrical preventative maintenance service there is no comparison to a Terminal-Andrae preventative maintenance power solution. Terminal-Andrae Electrical is Wisconsin's first choice for all electrical construction and electrical maintenance needs from electrical preventative maintenance thermal scanning to power metering to electrical construction manpower.
When electrical preventative maintenance fails, as power problems cannot be completely eliminated, Terminal-Andrae Electrical offers on demand 24 hour emergency power services to quickly resolve your electrical disasters.
Southeast Wisconsin Commercial Surveillance Systems
Terminal Andrae offers both the latest Samsung and Sony high-end surveillance systems to keep your business or residential property more secure. People who benefit from a high definition security system include landlords, businesses that experience high rates of theft, and those seeking an alternative to firearms for basic home protection.
Our surveillance systems allow you to view your surveillance footage anytime, anywhere directly from your smartphone or other device. Your cameras are guaranteed to be high definition quality, so no more grainy tapes that fail to accurately identify the perpitrator. This allows you to have 24/7 access to crystal clear imagery, as well as monitor any potentially suspicious activity. Home security cameras are exceptional crime deterrents, and are a great tool to boost your peace of mind.
Terminal Andrae provides preventative maintenance services for
| | |
| --- | --- |
| | & surrounding communities! |
Contact the Milwaukee electricians at Terminal Andrae for preventative electrical services!
Quality Electrical Engineering Services