Milwaukee Electrical Contractor Makes Safety the Priority
The safety of a business's employees and customers should be the ultimate concern of any enterprise. Providing continuous proper safety procedure training for employees ensures both their safety and the safety of your customers. The electrical contractors at Terminal-Andrae take pride in our excellent safety record and our adherence to standard safety practices and ethics.
The electrical contractors at Terminal-Andrae are trained in proper electrical installation safety procedures and code. We ensure the safety of both our contractors and our customers while maintaining quality workmanship and great customer service. Whether performing electrical preventative maintenance or medium voltage construction , the Milwaukee electrical contractors at Terminal-Andrae follow strict safety procedures and rules, including utilizing proper hand signals, wearing approved safety equipment and inspecting work areas.
Electrical contractors at Terminal-Andrae go through year round safety training and attend multiple safety conventions or training seminars. Our Milwaukee electrical contractors and technicians receive constant training in proper Arc Flash Solutions (70e Compliance) and new techniques in Process Automation . These multiple training sessions keep our Milwaukee electrical contractors up to date on safety procedures and protocol, no matter what the situation.
Terminal-Andrae also maintains strict adherence to OSHA standards and electrical engineering code and law. Our electrical contractors are taught physical skills, such as the proper and safe use of a ladder and respirator, and creative thinking solutions for preventing and solving hazardous situations. Proper adherence to safety standards and procedures also saves money for Terminal-Andrae's customers by avoiding potential issues or danger in the future. The electrical contractors at Terminal-Andrae always follow proper procedure and code to ensure our customer won't have any unneeded surprises down the road.
While the electrical contractors at Terminal-Andrae are well trained in maintaining their personal safety, it's the safety of the customer which overrides everything. Our Milwaukee electrical contractors educate our customers on proper safety procedures, ensuring awareness of dangerous areas and how to avoid potential accidents or injury. We section off hazardous areas and put up signs to inform customers and bystanders of any dangers.
Terminal-Andrea is a member of multiple Electrical contractor groups and safety societies, including The International Brotherhood of Electrical Workers, The National Electrical Contractors Association, the National Electrical Installation Standards and the National Electrical Code.
See the Safety hand signals below for our Milwaukee Electricians, in field electricians are trained in and utilize these on a daily basis in their work.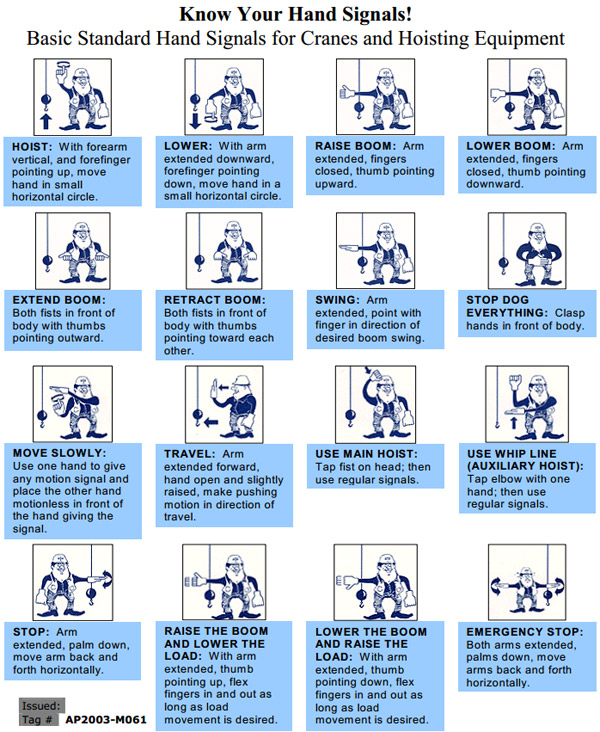 Contact the Milwaukee electrical contractors at Terminal Andrea for more information on our safety training and standards.
Quality Electrical Engineering Services