Industrial Warehouse Light Installation
Previous
Next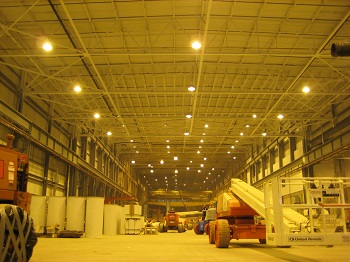 Professionally Installed Warehouse Lighting in Milwaukee
The impressive warehouse lighting system in the image above was professionally designed and installed by Terminal Andrae's team of expert electricians. Due to the scale and complexity of industrial warehouses, it takes a truly skilled team of gifted electricians to get the job done right.
This is why Terminal Andrae hires and trains only the most promising workers in their field. When it comes to big jobs like the warehouse pictured here, our crews are ready and willing to take on the challenge in order to give all of our clients an efficient, dependable, and powerful lighting system that they desire.

We perform electrical services for jobs of all sizes, and there is no job too big or too small for the electricians at Terminal Andrae to attack head-on. We specialize in most major areas of electricity, and have provided Wisconsin residents with top-notch commercial, industrial, and residential electrical services for over a century!
Curious about what our team at Terminal Andrae can do for you? Contact our Milwaukee electricians today!
Quality Electrical Engineering Services